Who Makes the BEST Pastrami Sandwich in Portland?
I was going to title this post Who Makes the BEST Reuben Sandwich in Portland?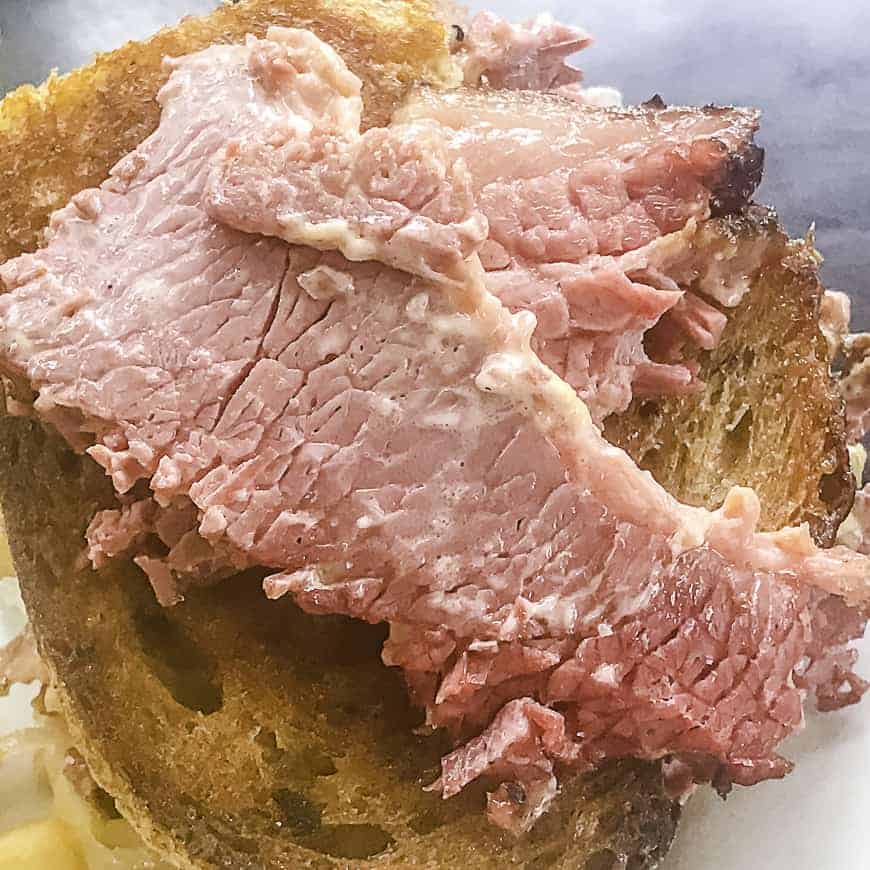 But then I'd have to define "Reuben" and that's a topic for serious debate. Our best and your best may be completely different.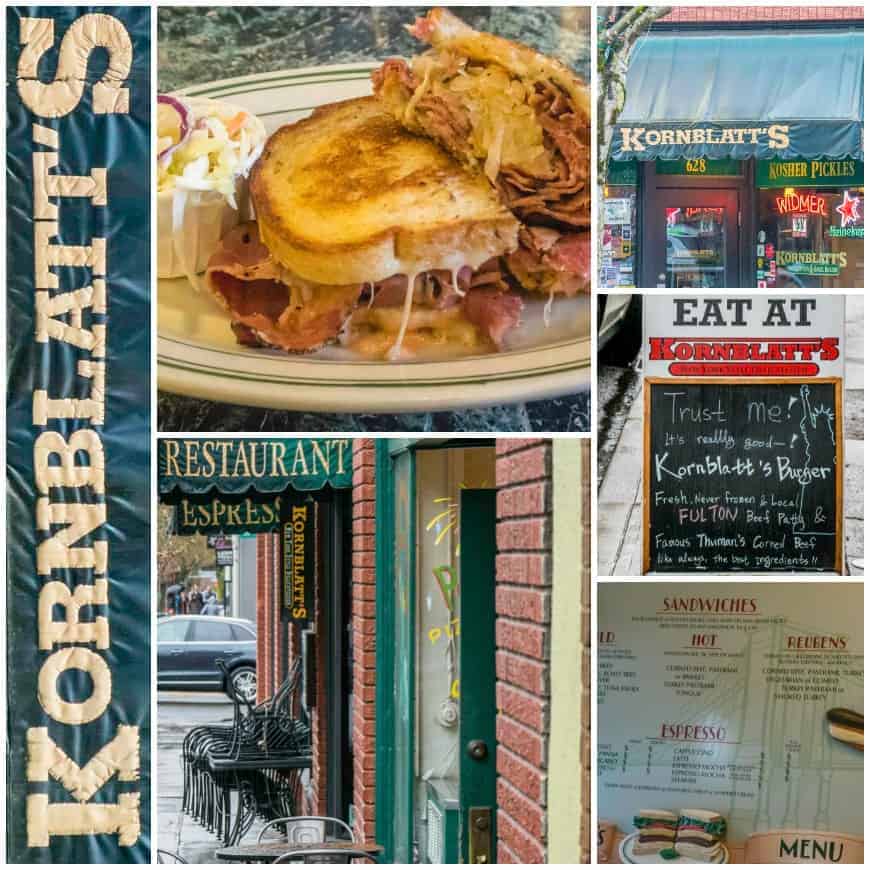 But let me attempt a definition anyway. How about this: A CLASSIC Reuben sandwich consists of the following key elements: The Meat (preferably housemade)
Corned Beef: beef brisket (or the belly/navel cut next to the brisket), slow cured in a spice and liquid-brine, and then BOILED slowly to break down the tough connective tissue.
–OR–
Pastrami: beef brisket (or the belly/navel cut next to the brisket), slow cured in a spice and liquid-brine, partially dried, treated to a spice rub (heavy on the black pepper and coriander seed), SMOKED, and then STEAMED to break down the tough connective tissue.
And yes, we prefer pastrami, because you know, THE SMOKE. The Curing Salt A note about the curing process: It should include curing salt, which includes sodium nitrate (NaNO3) and sodium nitrite (NaNO2). This addition turns the brisket a gorgeous dayglo red. Without curing salt, pastrami is a ghastly gray. Not our favorite color. Now don't panic. The National Toxicology Program, an agency within the U.S. Department of Health and Human Services, conducted a lengthy study to evaluate the safety of sodium nitrite. They concluded that used at FDA-approved levels, nitrite is not only safe, but may help counter heart attacks, vascular problems, and sickle cell disease. Check out Taking the Cure: Of Nitrites, Prague Powder, and Other Curing Salts for a fuller explanation.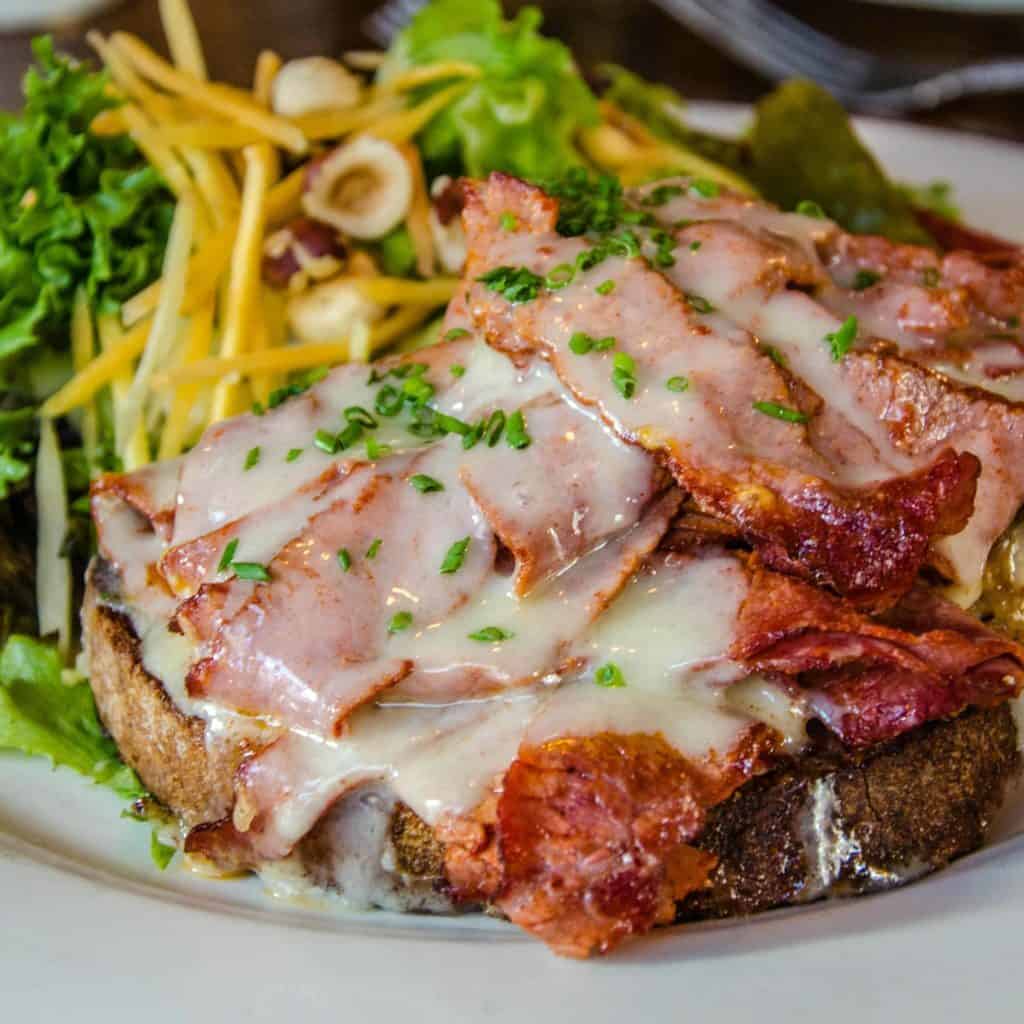 The Bread (preferably local)
German-style rye bread, preferably flavored with caraway, coriander, and aniseed or fennel.  See this insightful article on the requisite spices.
The bread slices should be generously buttered and the sandwich light pressed, fried until nicely toasted on each side, and cheese thoroughly melted–as with a Toasted Cheese Sandwich.
We're sticklers for these two critical elements. The flavor of rye and caraway are essential to us for a perfect Reuben. And if the bread isn't richly toasted and glistening with absorbed butter, well then, we're mighty sad.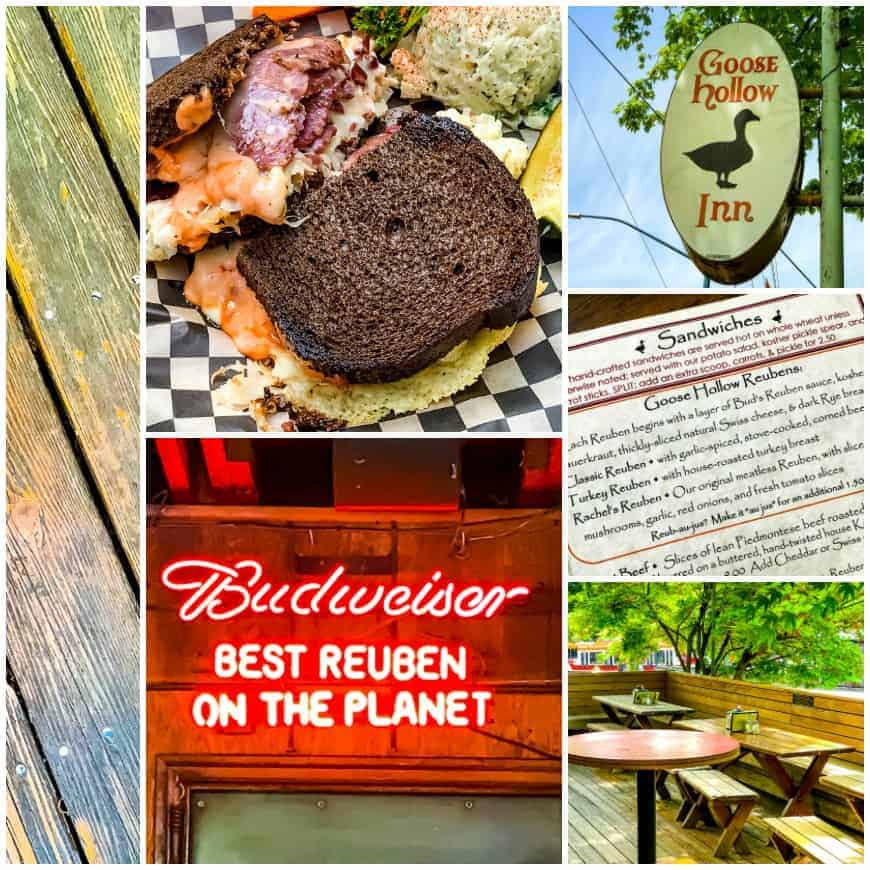 The Cheese
Minimally aged (lengthy aging interferes with melting quality of these cheeses) Swiss Emmenthaler, Swiss Gruyere, Swiss Appenzeller, Norwegian Jarlsberg, or best-quality American facsimiles. When young, these are all great melting cheeses with a beautifully nuanced, nutty flavor.
We've never met too much cheese in a Reuben. Enough said. 🙂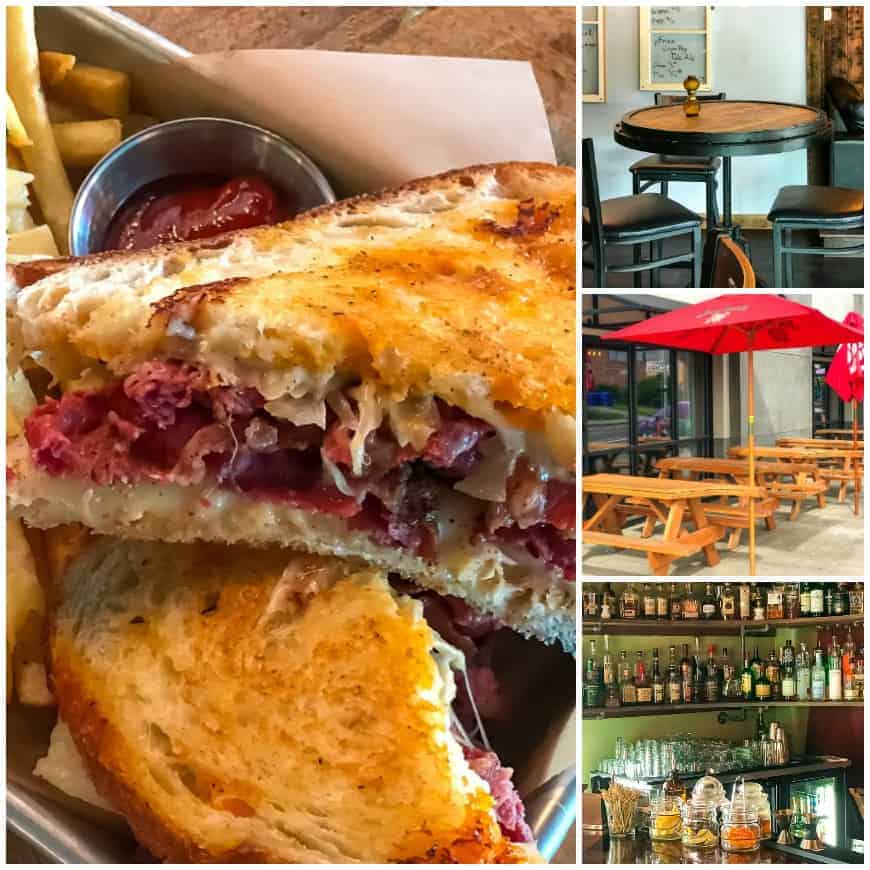 The Embellishments (preferably housemade)
Now, this is where an otherwise perfectly crafted Reuben can falter, and falter badly. These elements, in the right proportions, are critical to the sandwich. They must be top notch, preferably housemade, and generous enough to balance the rich, almost sweet flavor of the meat. They are essentially what keeps you going back bite after bite after bite until you think you'll never eat again.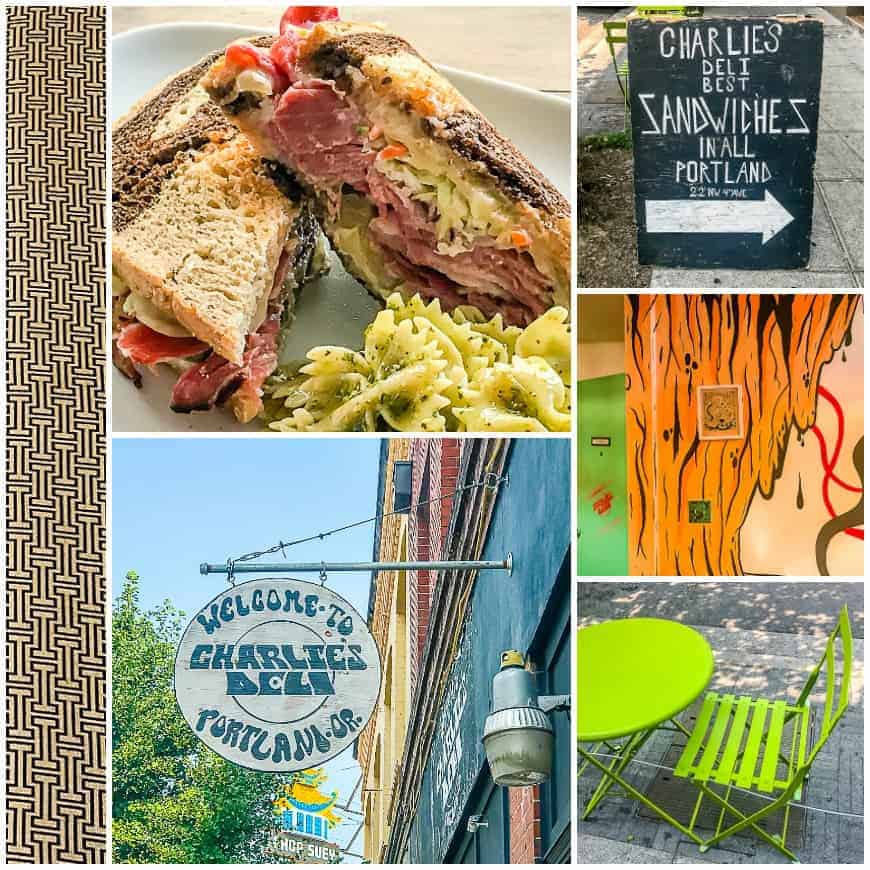 The Ratios (by volume)
2/3 meat
1/3 everything else
A Reuben sandwich is by its very nature a generous event. With "generous" being another word for "pig-out." But not just any pig-out. A perfect Reuben is a careful, precise study in contrast and balance.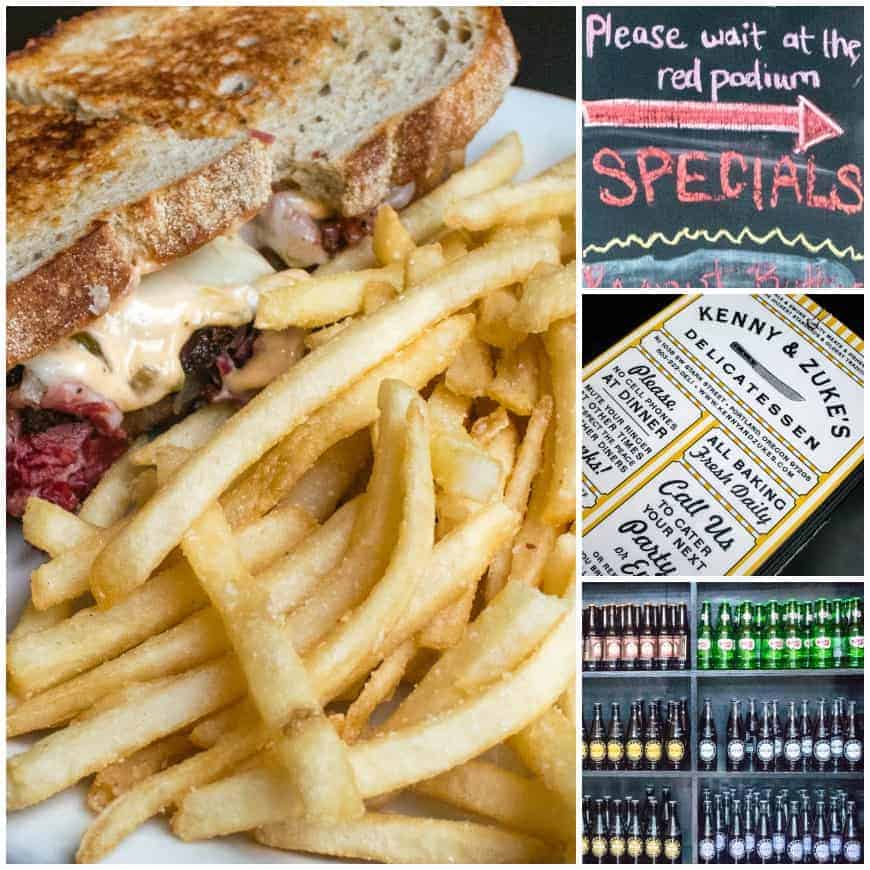 So now we get to the heart of this post: Who makes the BEST Reuben in Portland, Oregon? We've eaten Reuben-style sandwiches at these nine establishments so far, some of them repeatedly. Special cred goes to those establishments that handcraft their own pastrami (marked with a star).
And after much wringing of hands and general over-thinking, we have two favorites (rather than bests, because really, it's so subjective)–which we could happily eat every week from now to eternity. Interestingly, they are vastly different from each other.
Goose Hollow Inn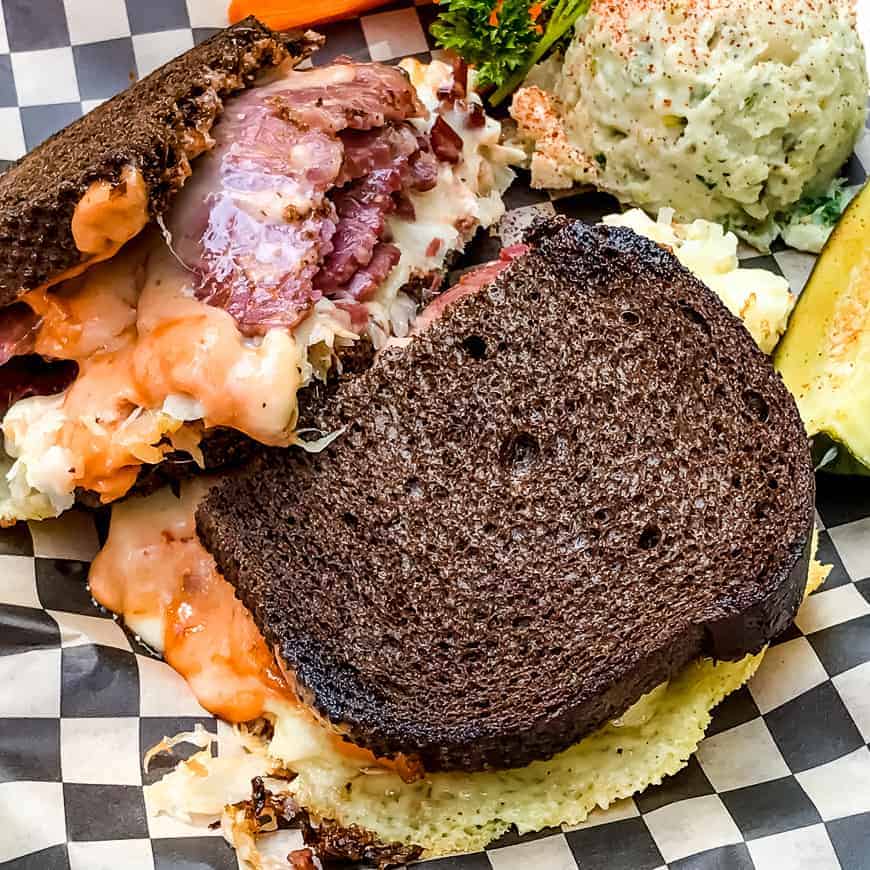 The photo above tells the story. Not only is the pastrami housemade and stellar, there's no holding back on the cheese, spicy Russian dressing, or zingy sauerkraut either. The sandwich rocks because they have both the key elements AND the ratios right. It's one big sloppy, groan-worthy mess of heaven, and it's unlikely you'll come up for air before you polish off every last bite. The accompanying potato salad and dill pickle are perfect accompaniments to help you ease back into reality after inhaling the sandwich (which is plenty for two to share).
Kornblatt's New York Style Deli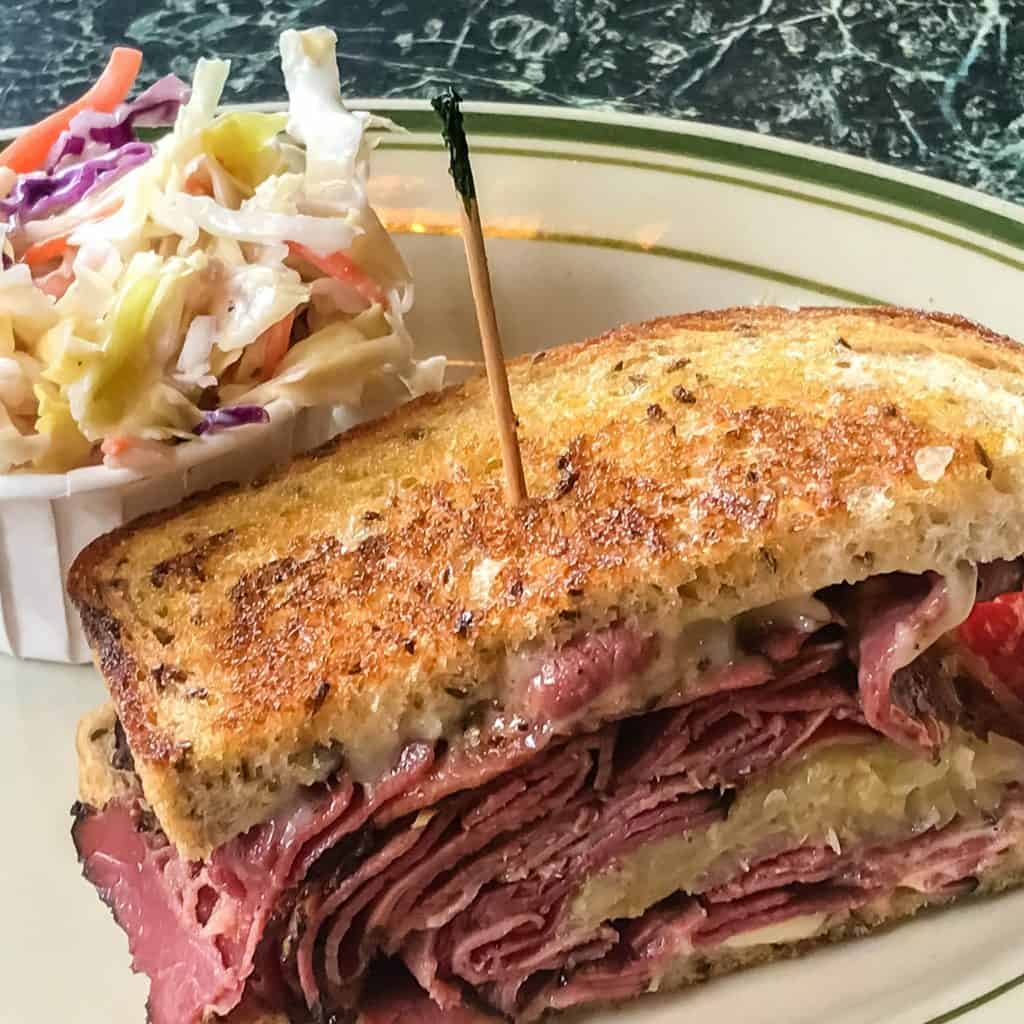 This is another style Reuben altogether, and we are prone to dismiss it because, although the pastrami is very tasty, it's pressed, sliced paper thin, and not housemade. We're pastrami snobs in other words. And yet! We eat this darned unsnobby Reuben more than any other in Portland. We wake up craving it–almost always simultaneously. And then noon rolls around and there we are–trotting up to NW 23rd.  It's the whole experience really. The jar of housemade dill pickles, the potato and mac salads, the coleslaw, the old time diner vibe. but it's also that perfectly crafted Reuben, with each element pronounced and in balance with every other element. That's hard to do and Kornblatt's does it right EVERY TIME.
There's More (inspiration from around the web)
Copyright 2018 Susan S. Bradley. All rights reserved.