How to Sell and Buy a Home at the Same Time

Given the current sellers' market, some homeowners, who would like to move are hesitant to put their home on the market because they're uncertain how to sell and buy a home at the same time. They are concerned about the selling and buying timeline … in other words, they want to be sure their home sells in time to cover the expenses for their new home, and at the same time, they want to be sure they don't have to move out before they find their next home. These are valid concerns. Fortunately, the SkyBlue Team has been down this road before, and we can guide you through a successful Sell-Buy process.
The Good News
First, if you've owned your home for more than 5 years, your home value has appreciated dramatically. The home price appreciation rate in the Portland Metro market has been at 10-14% for several years, so you likely have a lot of equity to work with to buy your next home.
Second, while inventory is still at low levels, there are great homes for sale. With the pandemic behind us, sellers who were uncomfortable selling are now ready to sell and move on with their lives.
Third, if it's time for you to move, we have time-tested sell-buy strategies that can get you into your next home. The key is creating a customized Sell-Buy Plan that meets your goals, lifestyle, and timeline.
It happens all the time … as soon as you get specific about what you want, the perfect house will "magically" come on the market. It may take a couple of weeks, a couple of months, or a year … but one day, the right house will be for sale. If you have a Sell-Buy Plan in place, you'll be ready to act, and that dream house will become your home.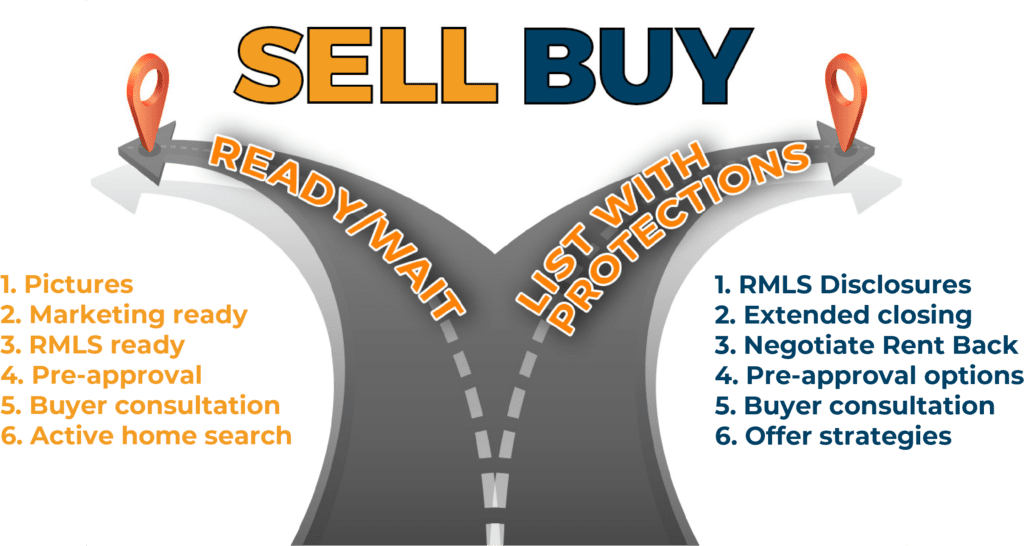 Ready/Wait
The Ready/Wait approach means we get your home ready to list but do not put it on the market until you've found the home you want.
To prepare, we conduct a pre-listing consultation to discuss your concerns, goals, and timelines. Then, we complete a market analysis of your home and provide a price range. We then discuss pricing strategies for your home, and if you're comfortable, we complete all necessary RMLS paperwork and complete a pre-listing walk-through. During the walk-through, we'll suggest how best to get your home ready for sale. Then, we photograph your home professionally and prepare all the marketing collateral.
At the same time, we get you pre-approved for a loan for your new home. Based on the target sell price of your home and your mortgage pre-approval, we now have a realistic budget to work with to purchase your next home.
We start looking for your next home once we know your budget, goals, and timeline. When the right home comes to market, you are 100% ready to make a competitive offer and secure your next home.
List with Protections
We complete a market analysis, agree to a pricing strategy, complete the pre-listing walkthrough, take photographs, prepare the marketing, and list your home for sale — with disclosures that protect you. This means we sell your home subject to your finding a replacement home.
In addition, it's possible to negotiate a longer closing date and include a seller rent-back. A seller rent-back means that you close on the sale of your home and receive your cash, but you can stay in the home for an additional negotiated period. Between the extended close and seller rent back, we can negotiate several months when you can find your next home.
The Sell-Buy Roadmap
The key to a successful Sell-Buy transaction is communication. The process begins with a no-pressure conversation to discuss your concerns, timelines, expectations, and goals in selling your home. Then, we complete a buyer consultation where we clarify exactly what you're looking for in your next home. Based on this conversation, we outline the Sell-Buy process and present you with your customized options. Then, you decide which approach works best for your situation.
Would you like to learn more about how we get your home sold for top dollar? Check out our article – Thinking About Selling Your Home?
Want to find out how much equity you have in your home right now? Visit Homebot – our instant online estimation tool.