St. Johns Neighborhood Guide
Only 17 minutes by car to downtown Portland, the St. Johns neighborhood is a world apart—a nature lover's paradise, surrounded, intersected, and graced by two rivers, a slough, and a sizable wetland, respectively.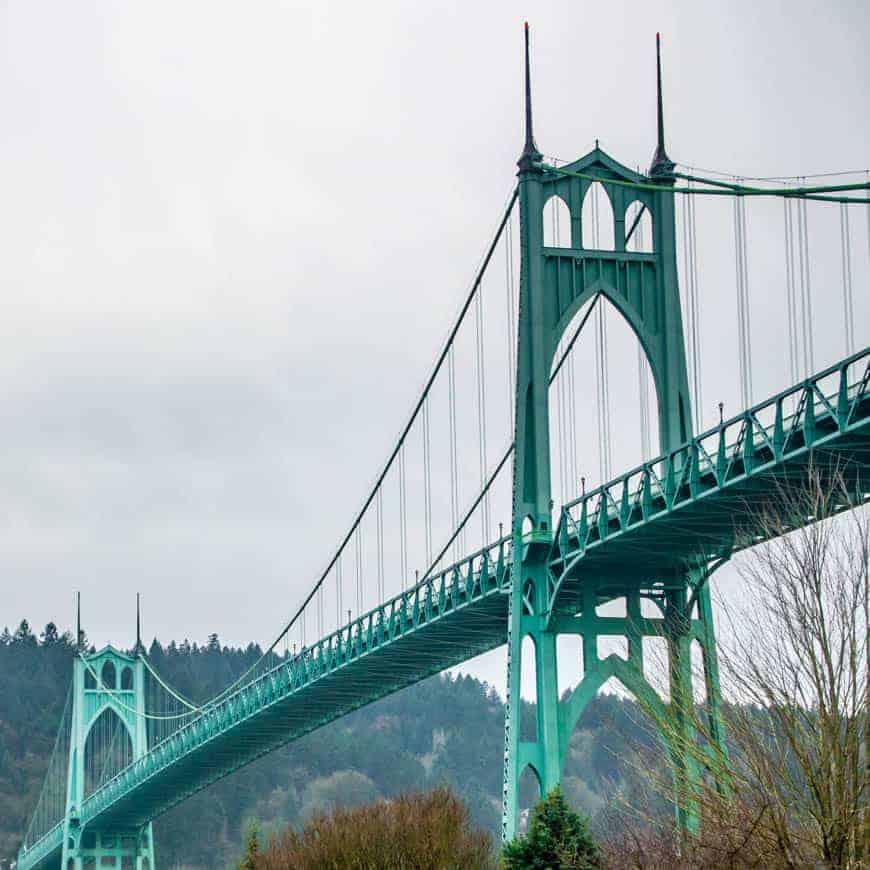 The St. Johns neighborhood is located in North Portland, on the western tip of the peninsula formed by the convergence of the Willamette and Columbia Rivers.
It's bordered by the Columbia River to the northeast (separating it from Hayden Island), the Willamette River to the northwest (separating it from Sauvie Island and Linnton), the North Portland railroad to the southeast (separating it from University Park, Portsmouth, and Kenton), and Cathedral Park to the southwest.
---
Related: Homes for Sale in Portland's St Johns Neighborhood
All Homes for Sale in St Johns
All Homes for Sale in North Portland
---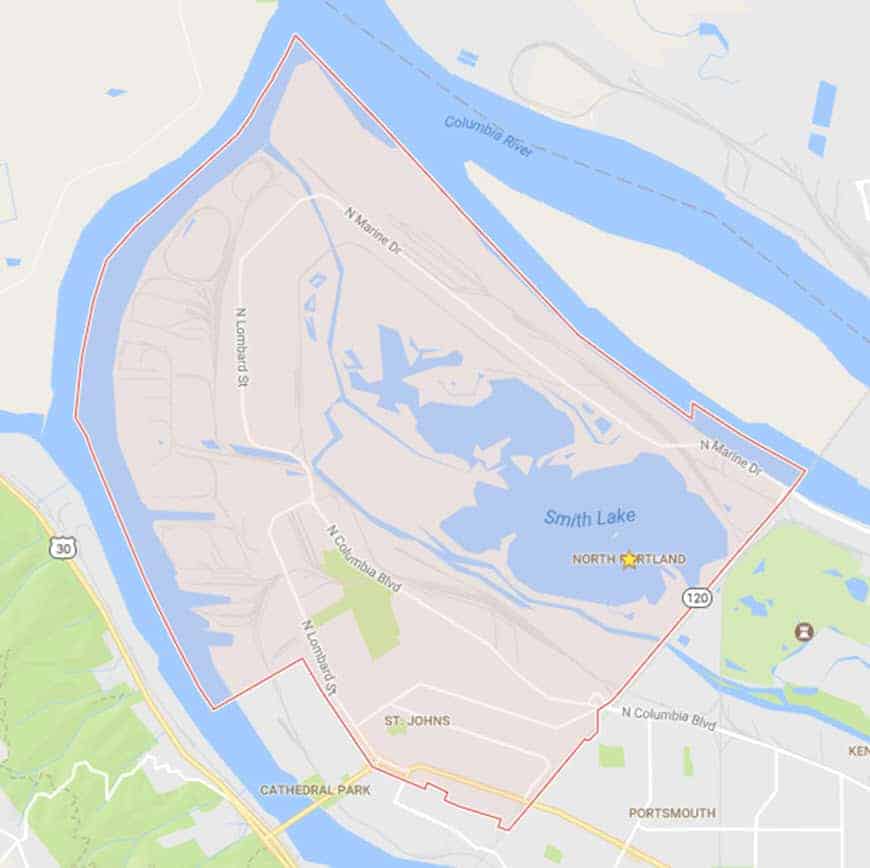 St. Johns Neighborhood boundaries
Our favorite route to St. Johns is across the only suspension bridge in the Willamette Valley, St. Johns Bridge.On the west side of the bridge, you'll traverse several blocks through the lovely Cathedral Parks neighborhood before reaching a St.Johns boundary line at North Ivanhoe Street.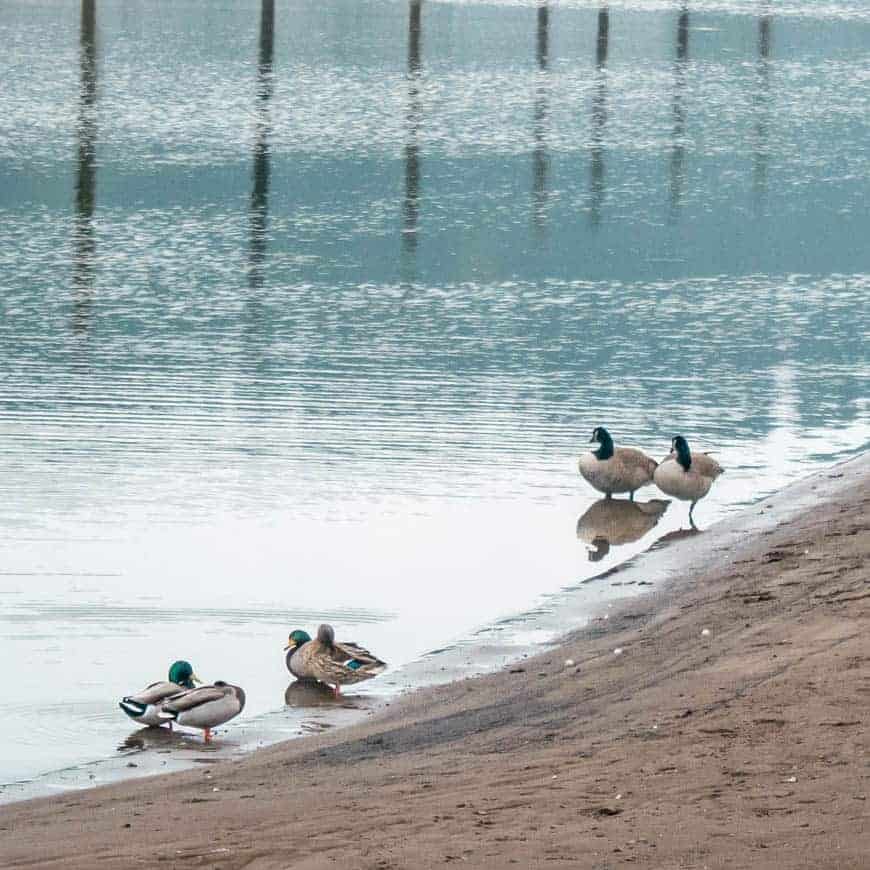 People, dogs (on leash), and ducks gather at this beautiful park every day. In summer, it's a popular family gathering place.
Neighborhood in Transition
Like much of Portland today, St. Johns is a neighborhood in transition. Once a largely industrial/corporate park hinterland, with a decidedly seedy downtown, it's now blossoming into a destination for forward-thinking entrepreneurs, upwardly mobile professionals, and developers. Plus Portland neighborhood lovers like us.
While we explored and photographed St. Johns for this guide, casual conversation in the coffee hangouts, restaurants, and shops gravitated repeatedly to the new housing and retail developments popping up around town. (Check out our regularly updated map.)
Will they fit in with the special vibe of the neighborhood? Will they drive up home prices and taxes? Who are all these new people moving into the neighborhood? Will the neighborhood be recognizable in 10 years?
Only time will tell, but we're betting the wholesome, welcoming, creative, inclusive spirit of this great community will survive the transition.
(What's happening in St. Johns (and much of the rest of Portland as well) is widely bemoaned as gentrification, and it's a hot topic around town. Check out the articles below in the In the News section for more on this evolving front.)
A Shopping Mecca
New, well-curated gift, clothing, and antique shops now line North Lombard and adjacent streets, making for destination shopping with friends.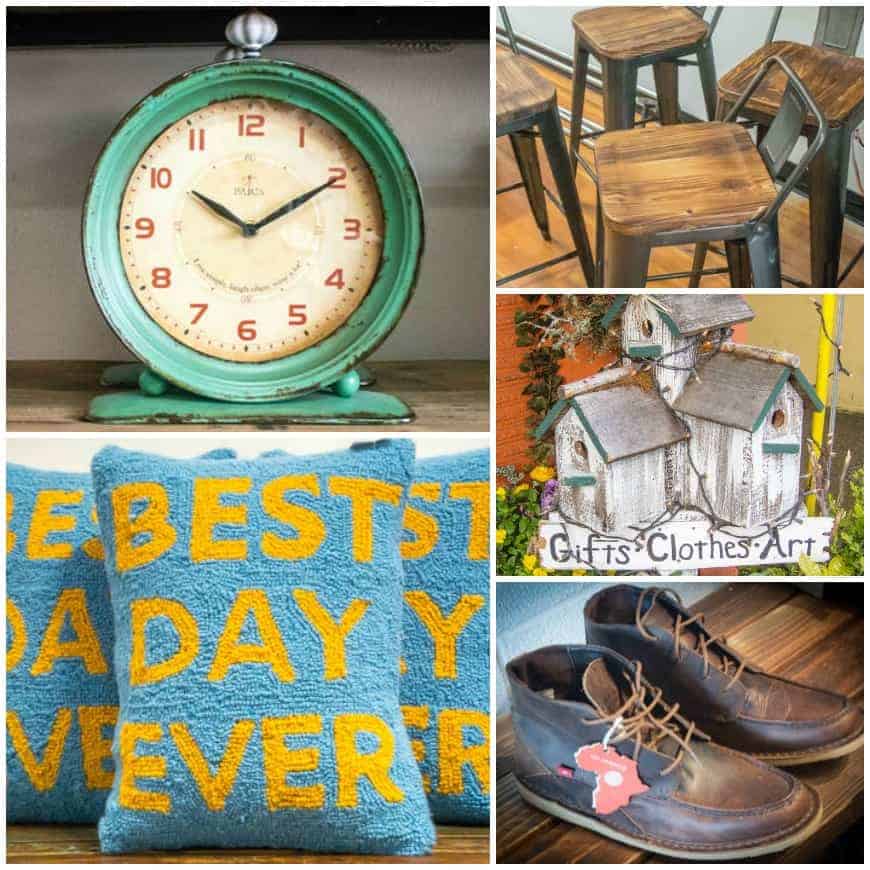 Some our faves are RoM Shoes,  Bestow PDX, Therapy, Salty Teacup, St. Johns Living Well, Etcetera, Hound & Hare Vintage, and Coffee Kids.
A Coffee Paradise
Along with a mother-load of fine coffee shops (Affogato, Anna Bannanas, Cathedral Coffee, St. Johns Coffee Roasters, The Great North, Two Stroke Coffee), imagine a choice of several Oregon roasters (Coava Coffee Roasters, Equator Coffee, Portland Roasting, St. Johns Coffee Roasters, Tanager, Water Avenue Coffee Company)–most within a block or so of each other. Here are a few of our faves.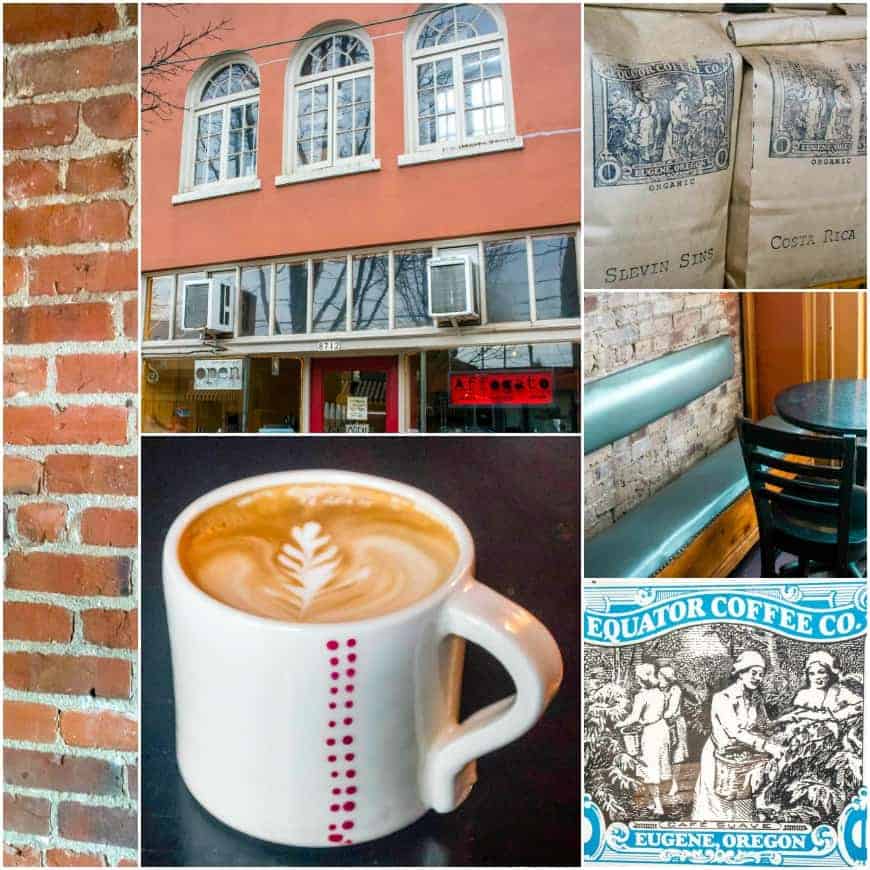 Affogato is the only coffee house in the neighborhood that makes their own, excellent gelato. And we're big fans of their coffee of choice, Equator Coffee Company.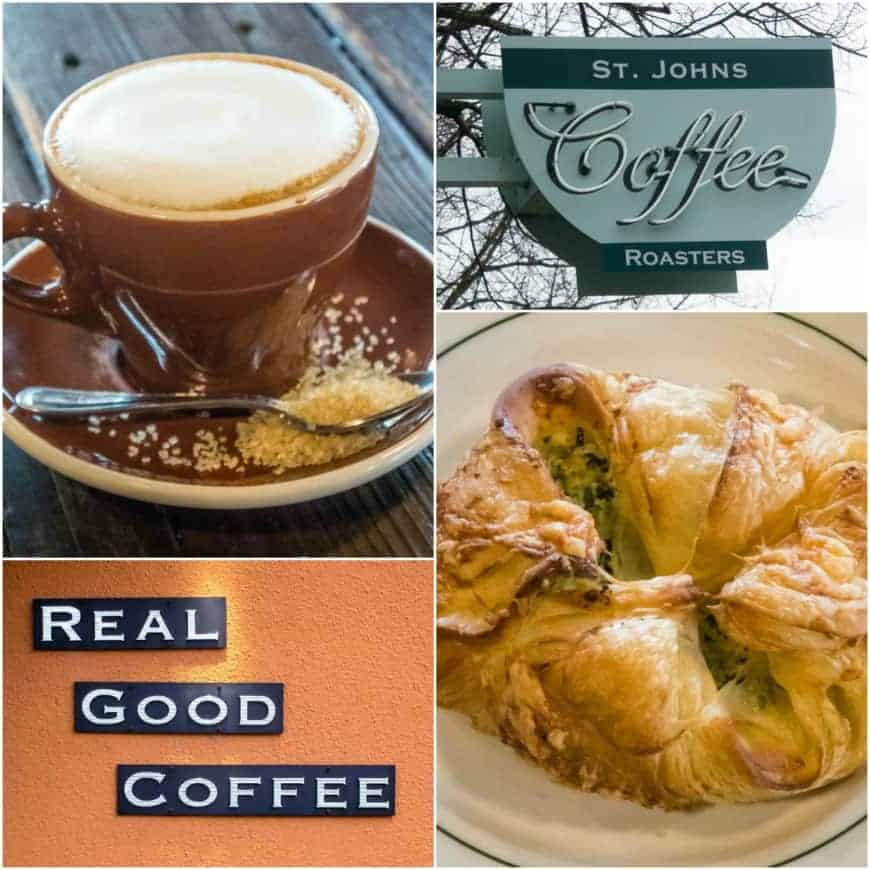 St John's Coffee Roaster is the only coffee shop in St. Johns that roasts their own beans. With a retro hippy allure, it's a neighborhood fave.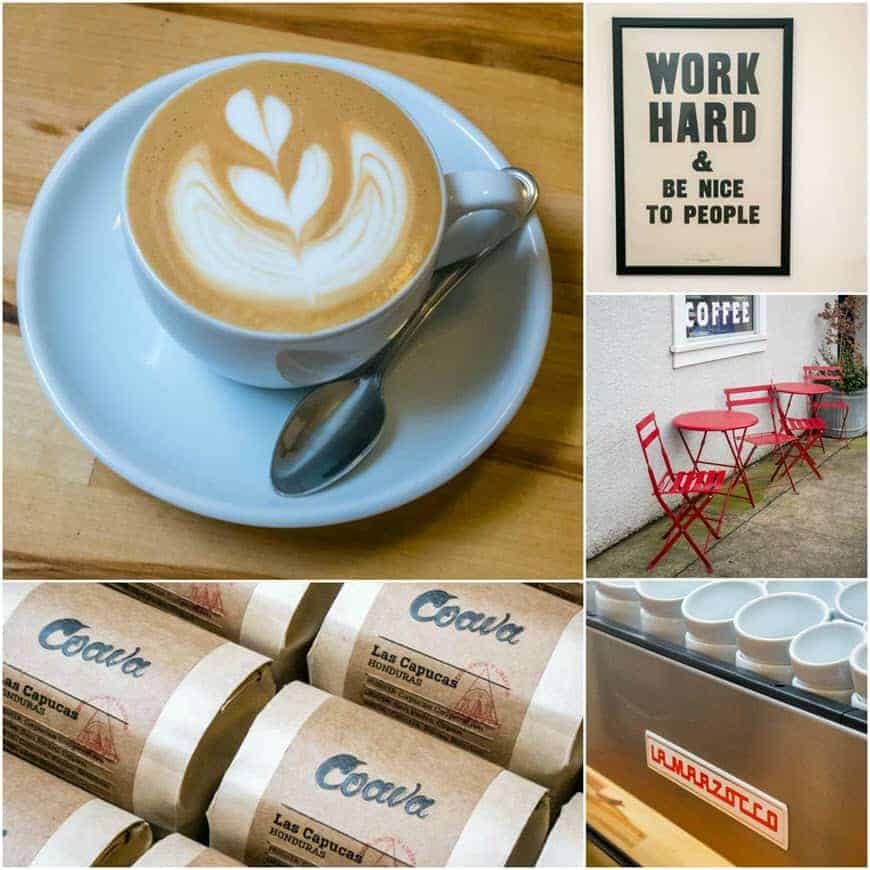 The Great North is a newer coffee shop–light, bright, and upbeat–with a decidedly urban vibe.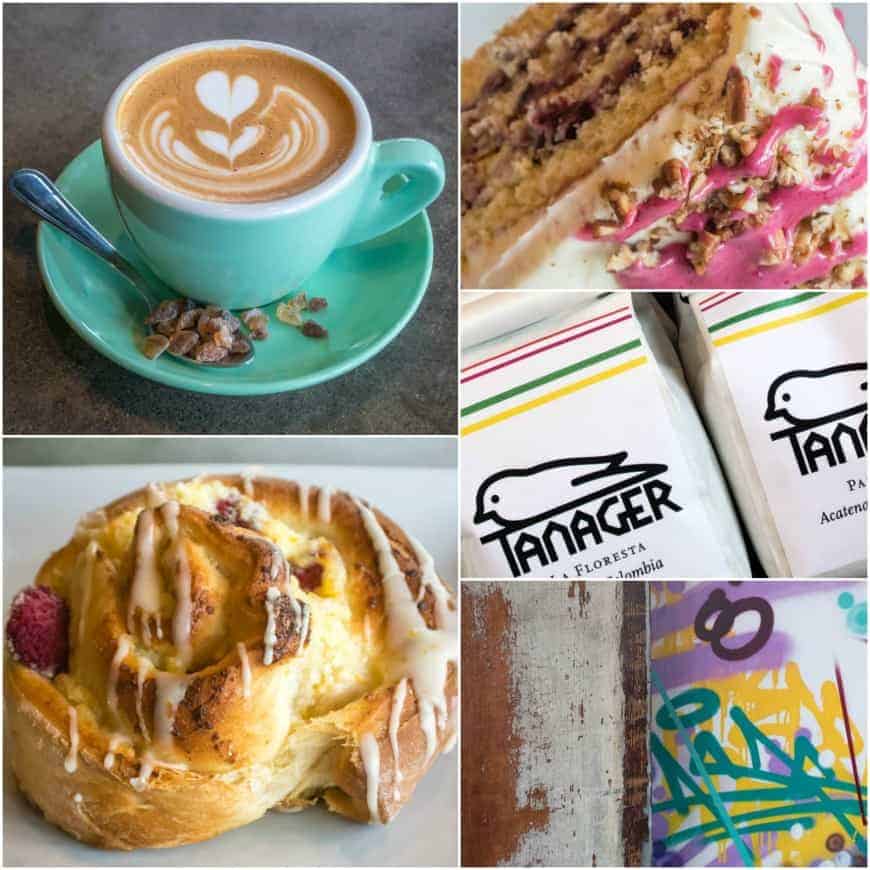 Cathedral Coffee in the unofficial study hall for the University of Portland. It's wall-to-wall students, books, and laptops. Plus seriously good, local Tanager Coffee and house-made pastries.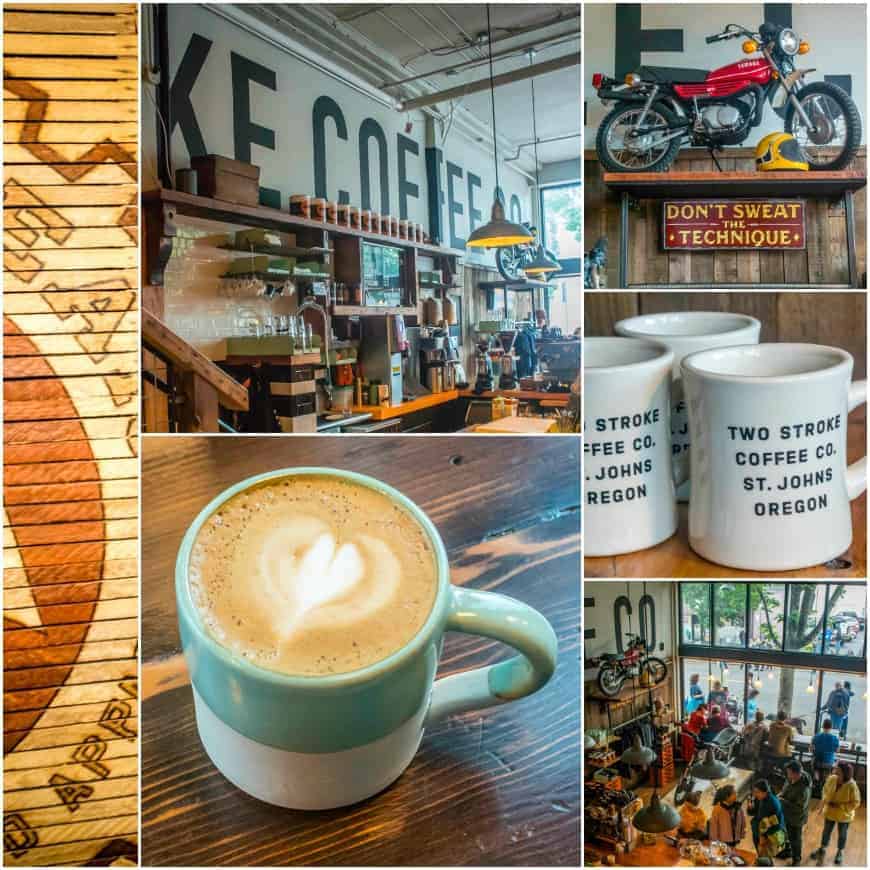 As of May 2016, Two Stoke Coffee Company is the newest coffee house in St. Johns and perhaps the most intriguing–with a couple of uber-cool motorcycles on display and an adjoining cycle gear shop. The window bar and loft are primo people-watching perches.
Dining & Noshing
Unlike coffee shops, St Johns is not a mecca for fine dining establishments. But we did discover a couple of gems in the rough.
The James John Cafe is an endearing throwback to earlier times when food was simple and nearly always good. Even patrons dress the part. On our recent visit, nearly every male in the cafe was attired in lumbersexual style–meaning facial hair, expensive flannel shirts, puffy vests, cool boots, glasses, and cooler-than-cool wool beanies.  So there's eye candy to keep you amused while you wait for That French Toast!
Update: Sad to say that James John Cafe closed in December 2016. It will be sorely missed.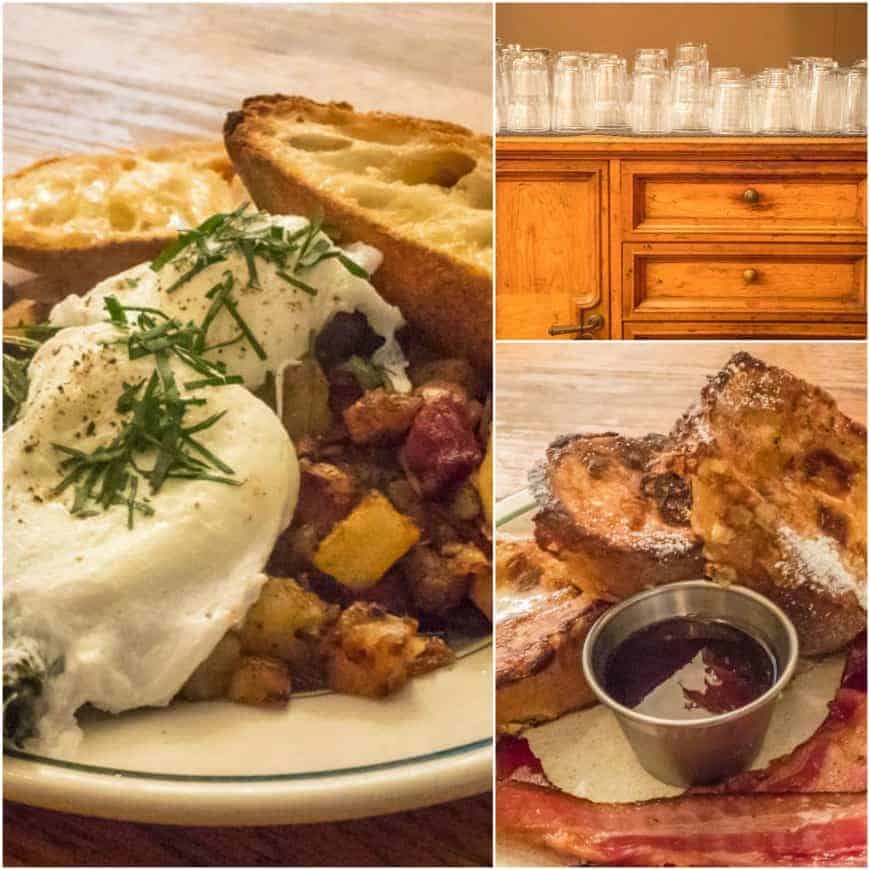 Mama San Soul Shack is a soulful fusion of American South and Southeast Asian on the Lombard strip. Those wings!
And then there's the amazing Chef Anna Henrie Henricks of Sweetheart Cake Studio and Pop-Up Bakery. We've never seen more beautiful cakes and pastries. And they taste as good as they look.
St. Johns Farmers Market
Nearly everyone we talked to in St. Johns while researching this guide spoke glowingly about the St. Johns Farmer Market. It's a summer market, so we'll be back then to capture a few photos for this section.
St. Johns Bizarre & Parade
The neighborhood of St. Johns is justifiably proud of their much-lauded yearly craft bizarre/street festival/parade (one of Portland's longest running parades).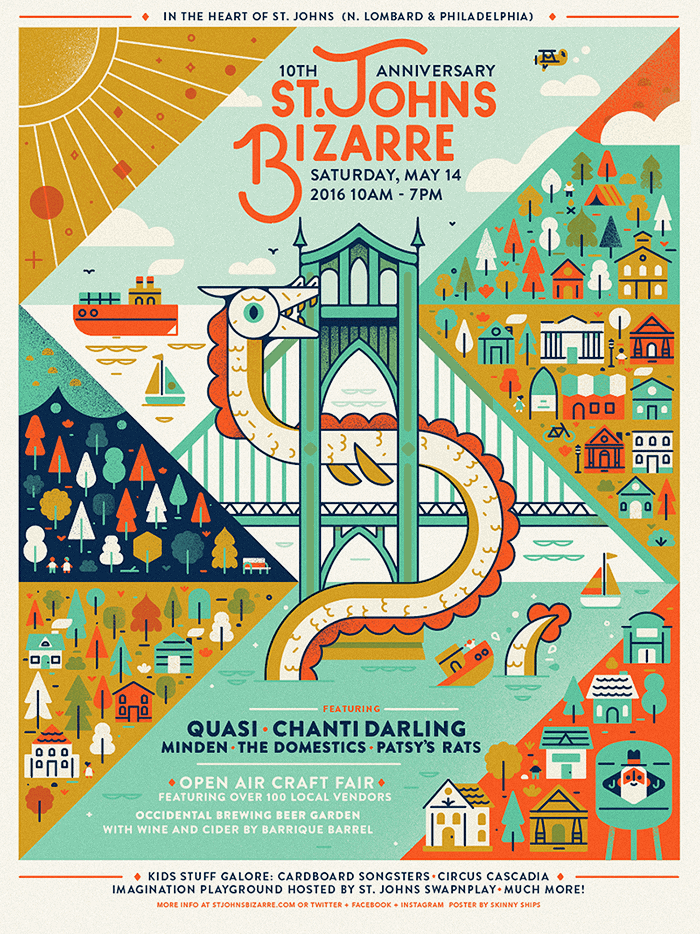 This single day event (2nd Saturday in May each year) in the heart of St. Johns celebrates the unique character of North Portland. In 2016, the bizarre showcased over 100 juried craft vendors, several music stages, and numerous food vendors–plus games and special activities.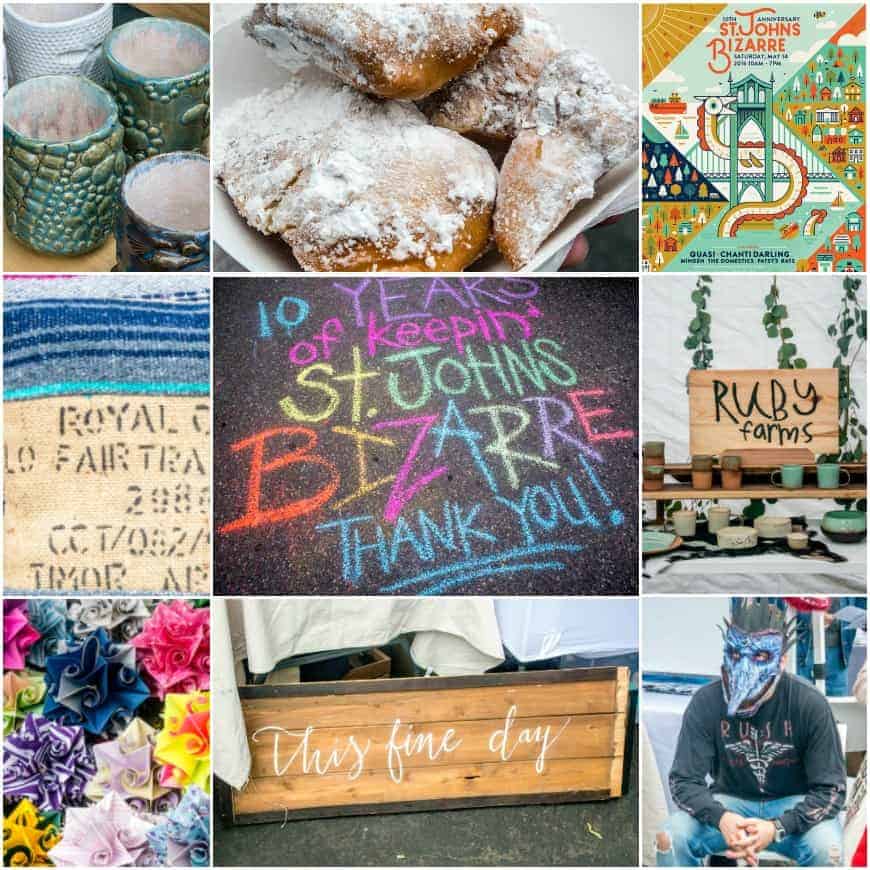 And of course a PARADE. The theme for the May 2016 St. Johns Parade was Joyful Living–and joyful it was. This is a not-to-be-missed spring event.
Home Styles
St. Johns is home to nearly all styles of Old Portland architecture, from smaller bungalows and Cape Cods to grander Victorians.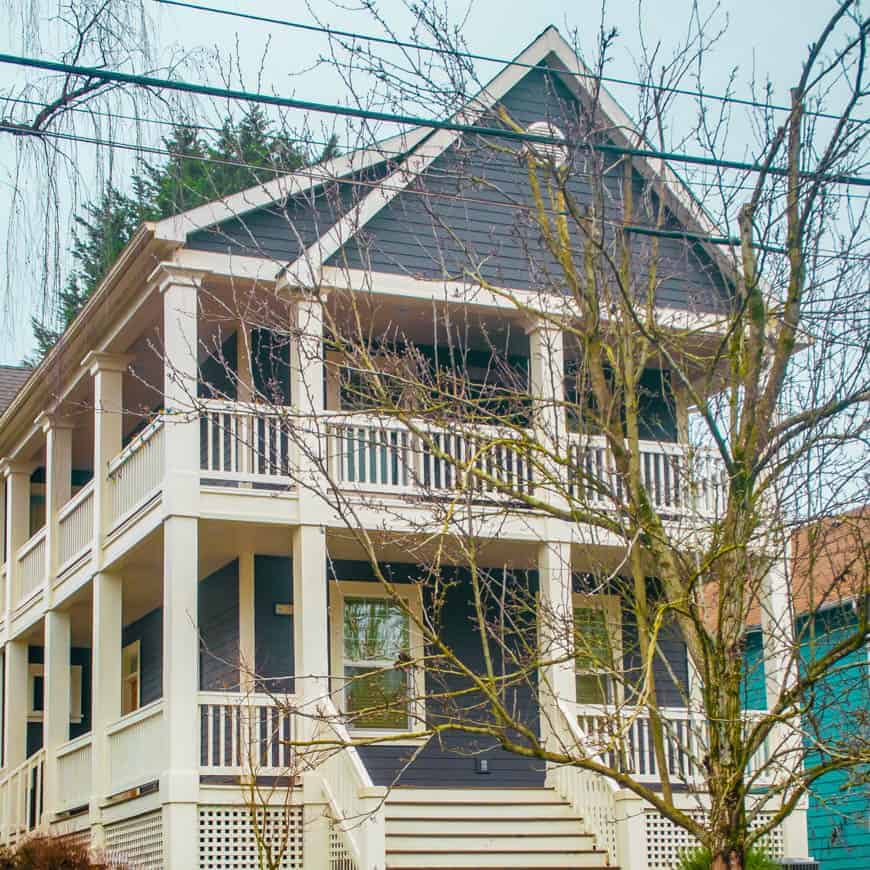 Surrounded on three sides by water, St. Johns even has a floating home community.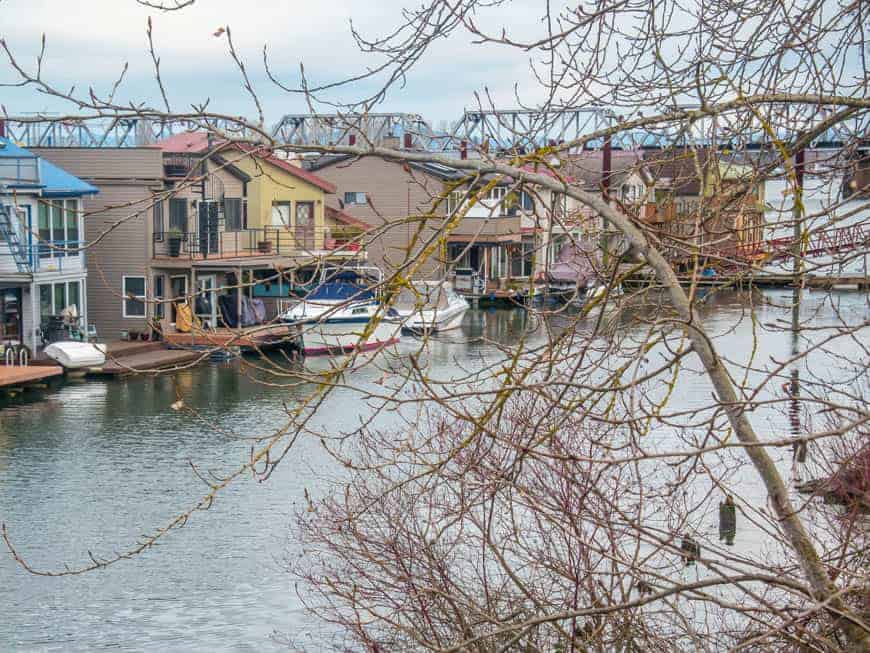 Many St. Johns homes are sitting on generously sized lots, just begging for a resurgence of urban gardeners.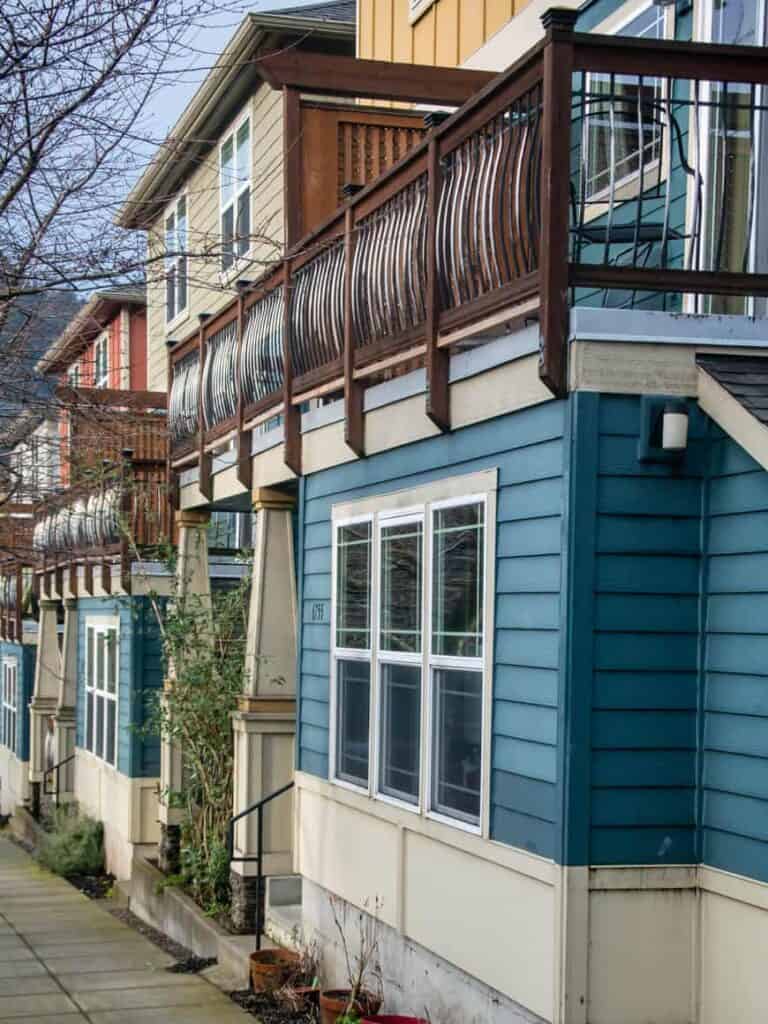 Additionally, some of the newer developments are designed to fit gracefully into this community of older homes.
Parks | Recreation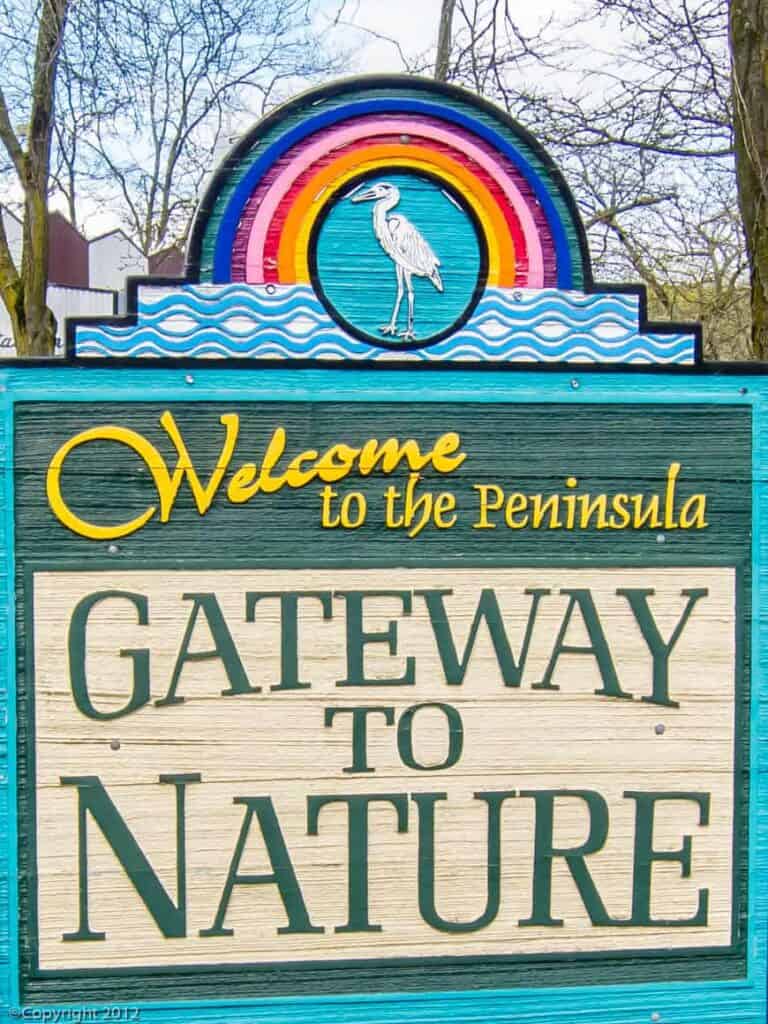 St. Johns is a haven for nature lovers. There are plentiful parks and natural areas, including Cathedral Park, Columbia Slough, Kelley Point Park, Pier Park, Saint Johns City Park, and Smith and Bybee Wetlands.
Upon entering St. Johns, you see the sign, "Welcome to the Peninsula, Gateway to Nature." Sightings of Bald Eagles and other birds of prey are common.
Public Schools
Public Schools in St. Johns are part of Portland Public Schools.
George Middle School
James John Elementary School
Sitton Elementary School
County | Zip Code
County: Multnomah
Zip Code: 97203
Neighborhood Association
Johns Neighborhood Association
Johns Neighborhood Association (City of Portland)
Neighborhood Maps
Neighborhood Statistics
In the News
Copyright 2015-2018 Susan S. Bradley. All rights reserved.